Accu-Chek Active Glucometer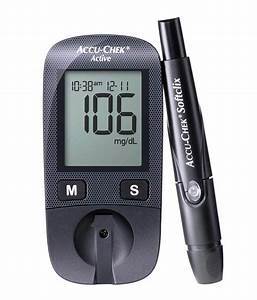 Accu-Chek Active Glucometer
Product Description
Description
Accu-Chek Active Strip helps indetermining the blood sugar level in the body. It does not require any manualcoding and allows hassle free usage. The sugar test strips absorb the bloodeasily and spreads quickly on the strip. The strips need a small amount ofblood that shows reliable results in a few seconds. The kit includes Accu-ChekActive strips that can be used until the expiration date printed on the pack.After the test matches the colour of the strip visually to the closest coloureddot on the test strip container.
Uses:
It helps in determining glucose in fresh capillary blood by reflectancephotometry technology.
Product Specifications and Features:
Proven Accuracy: The Accu-Chek Active strips aresimple and effective and help you to keep tabs on your diabetes regularly. Italso fulfils ISO 15197:2013 standards of accuracy.
Clever functionality: Accu-Chek Active strip is ahassle-free product. The blood is automatically absorbed by the strip andspreads quickly across it. The system then provides a fast and accurate result.
Easy-handling: A clear protective barrier runsalong the entire length of the test strip to protect the strip and thechemistry, which makes it easy to use.
Blood volume: 1-2 l
Visual double-check: To ensure accurate* blood glucosemeasurement, Accu-Chek Active allows you to double-check the displayed result.
Out of meter dosing: Test strip outside the meter:approx. 08 seconds
Can be used for both type 1 and 2 diabetes
Directions For Use:
Place the test strip inside the meter, draw a drop of blood by pricking thefinger with the lancet and then place the drop of blood on the test strip andwait for few seconds for the result.

Contact Us
Plot No. 3/4, 66/A, Puneeth Darshan, Vijay Nagar, Opposite OPP-GEB Office, Bhuj, Gujarat, 370001, India
Phone :+918045815540